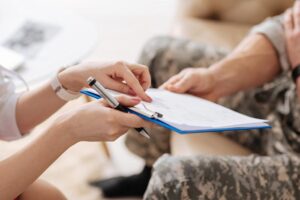 Divorce is strenuous by itself, but if you or your spouse is in the military, there are legal considerations that might make your divorce more complicated. Servicemembers are governed by federal laws on top of the state's divorce laws. This will greatly affect the outcome of your divorce, making an impact on your life for years to come, so it is best that you navigate this legal maze with care.
If you are in Gwinnett County, Attorney Sharon Jackson can advise you on the best steps to take in a Georgia military divorce. In her 15+ years of experience, she has obtained favorable results for her clients, even in the most complex divorce cases. Call Attorney Sharon Jackson today at (678) 921-3480.
Here is an overview of the laws and rules that apply to your military divorce.
Jurisdiction: Where To File For Military Divorce
It is common for military couples to live in separate states when one or both spouses are stationed on different bases. A spouse may file for divorce in any state where they meet the residency requirements. The state of Georgia requires only that either spouse has resided in the state for at least six months, or been stationed in the state for at least twelve months.
Choosing the state of filing must be considered carefully, because that state will likely have jurisdiction on the divorce case and its associated issues such as child custody, child support, spousal maintenance (alimony), and property division.
For instance, Georgia is an "equitable distribution" state, which means the division of the couple's property will not be done 50-50 but instead according to what is equitable. A military spouse seeking divorce will want to consider if this state law would be fair or ideal for their marital situation.
Another element needed for case jurisdiction is for the military spouse to agree with the chosen state. In other words, the divorce can proceed in the state only if the servicemember does not object to its jurisdiction.
Serving Divorce Papers In A Military Divorce
As in civilian divorces, the initial papers in a military divorce must be served to the non-filing spouse (the respondent). Accomplishing this step may be challenging for the filing spouse (the petitioner) if the respondent is assigned in a foreign country, an active warzone, or an otherwise inaccessible location.
In a civilian divorce, the respondent has 30 days to file their response with the court; if that deadline passes without response, the case could default in favor of the petitioner. But a military divorce is different because active-duty servicemembers are protected by the Servicemembers Civil Relief Act (SCRA).
Under this federal law, the active-duty husband or wife can request a "stay" or postponement of the proceedings to give them time to participate in the case. The stay is at least 90 days, and may stretch the entire duration of active duty plus a maximum of 60 days.
In Georgia, this same protection applies in cases of child support and spousal support. While being in the military does not exempt anyone from paying support obligations, it gives them the chance to delay the court proceedings. For a civilian spouse seeking support from a military member, this could mean more waiting for support payments.
In terms of child custody, the divorce court may issue a temporary custody order even if the SCRA delay is in place. The final custody order, however, cannot be issued less than 90 days after the servicemember's duty is over. This is under the Georgia Military Parents' Rights Act, which we discuss next.
Child Custody: Georgia Military Parents' Rights Act
The physical absence of one parent is often used against them in a child custody battle. With the Georgia Military Parents' Rights Act (GMPRA), deployed parents may avoid this unfair disadvantage. This law prohibits judges from issuing a final custody order during a parent's deployment plus 90 days. The additional 90-day wait allows the military parent to return and prepare their case.
The only exception to this rule is if the military parent expressly consents to the issuing of a divorce order.
The Act further states that a parent's absence due to their military duty cannot be taken as the sole factor to request custody modification.
Military Benefits: Will Military Pension Be Divided In Divorce?
In Georgia, the answer to this is complicated. The first thing to know is that military retirement, pensions, health coverage, and certain other benefits are governed by the Uniform Services Former Spouse's Protection Act (USFSPA). This federal law gives state courts the power to divide these benefits in a divorce.
Georgia courts divide property equitably in civilian divorces. But in a Georgia military divorce, the civilian spouse is not automatically entitled to receive a portion their military spouse's retirement, pension, or healthcare. For a non-military spouse to qualify for the division of these benefits, these three conditions must be met:
The marriage lasted a minimum of 20 years.
The military spouse was active for a minimum of 20 years.
There was an overlap of the first two conditions.
There are many other ways that federal and state rules can influence the division of property. If you are a servicemember spouse, it is wise to take legal steps to protect your assets, particularly your hard-earned retirement. On the other hand, if you are a non-military husband or wife, you can fight for the portion you fairly deserve after being married to a military servicemember.
Contact Sharon Jackson – Skilled Family Law Attorney
Whether you are a civilian spouse fighting for your rightful claim, or a military spouse wanting to protect your interests, Attorney Sharon Jackson can competently help you in your divorce. She has successfully guided many Gwinnett County clients with her in-depth familiarity with Georgia divorce laws and strategic skills in navigating each complex case.